Providing top quality school-uniforms at best possible value is the backbone of GRANTS work. We are THE bespoke and generic school-wear provider, catering for all sizes, shapes and special needs. We supply school uniforms and school supplies across the nation. GRANTS serve the group by catering to the individual. We sculpt our service in accordance with your need and tailor our products in accordance with your budget but we NEVER compromise on quality and value. From top to toe, helmet to boot, outerwear to sportswear, school-bag to pencil case, GRANTS will equip you and your family to meet every school need.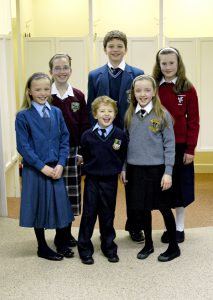 Jumpers
Shirts
Ties
Trousers
Kilts
Pinafores
Skirts
Blouses
Tracksuits
Coats
Blazers
Socks
We work with schools, parents committees and parents to ensure that respect and recognition of the school uniform begins with GRANTS and that consistency and longevity of the school uniform starts with GRANTS.
Generic & Bespoke Schoolwear
Our school uniform products are as generic as you require or as bespoke as you need yet across every scenario, the individual is served. GRANTS is synonymous not only with quality but with comfort, appearance and value. An appropriately dressed student serves the ethos of the school and a happily dressed student serves the spirit of the school. We cater for schools and students, parents and children, teams and sponsors. GRANTS don't just attire, we equip.
Scarves
Crested Jumpers
Crested Polos
Swimsuits
Hoodies
Gear-bags
Culottes
Hats
Pencil-Cases
Backpacks
 Specialised Services
Within the uniformity of school, there are the special days; the once-off days, the triumphant days, the commemorative days, for those rite-of-passage moments and for those reflective future reunions – GRANTS provide signature clothing, bespoke crests, celebratory gifts  Transition Year Hoodie, ID Lanyards and so much more.
School Tours
Graduation
Sports Fixtures
Charity Excursions
Fundraisers
TY Experience
School Reunions
Welcome Events
What Our Schools Say About Us
"Grants have been supplying our school uniforms since our school opened in 2009. With the help of Jim and Karen we have put in place a process which makes the purchase of the uniform by parents convenient and value for money."
Dave Anderson, Principal, Adamstown Community College
---
"Grants of Manor Street have supplied our school uniforms since 1998. The uniform items are always of a very high quality and standard. At all times our suggestions were taken on board and acted on in an efficient manner and are happy to recommend them as a uniform supplier to any schoolor college."
Carmel O'Neill, Deputy Principal, Castleknock Community College
---
"As a Principal of a newly opened Secondary School in Donabate in 2008 I sought a supplier to assist with the design and supply of a new uniform. Grants were extremely helpful and their advice based on many years of exoerience was invaluable. Since then, and more recently in my role in Dominican College I have found Jim & Karen to be efficient, approachable and patient in their dealings with the school and would have no hesitation in recommending them."
Dr Olive Laffoy, Principal, Dominican College, Griffith Avenue
---
I have worked with Jim and Karen for the last eight years. They have not just been uniform suppliers, but great guides on the side for students and parents alike. As principal they are a pleasure to work with as they prioritise the needs of the school community and produce garments that are practical, fashionable and good value, not an easy task!
Fionnuala Ní Chaisil, Principal, Luttrellstown Community College
 ______________________________________________________________________________________________________________________
We have found Grants to be reliable, professional , obliging and very willing to meet the needs of our school and students. We have students with special uniform requirements and have found Grants to be very accommodating and sensitive to their individual needs. We have found Grants very easy to contact and quick to respond to issues as they arise with a  very positive and solution focused attitude.
Liam Walsh, Principal, Colaiste Pobail Setanta